CEX.IO Wallet
Your guide to digital assets
Buy, Sell, Store, and Earn crypto. For everyone.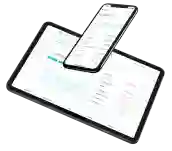 Key facts about CEX.IO Wallet
Wide range of top and trending cryptocurrencies.
Easy Access to Cryptocurrencies
Keep track of your portfolio conveniently, whether on a mobile device (iOS, Android) or on the Web.
Solution for Crypto Asset Management
Stay in control of your funds anywhere.
We're connected to Liquidity provider and offer the best terms to our customers.
With CEX.IO Wallet, you can always keep track of your funds. This gives you an accurate view of your investment performance.
Easy & Efficient Investing
Buy, Sell crypto in a several clicks.
To keep your funds secure, we store 98% of digital funds in an offline cold wallet.
Wide range of payment instruments (credit/debit cards, wire transfer, SWIFT, SEPA, QIWI, SKRILL etc).
Our support staff is available 24 hours a day to help.
Instant Exchange
Exchange a wide range of cryptocurrencies in one click.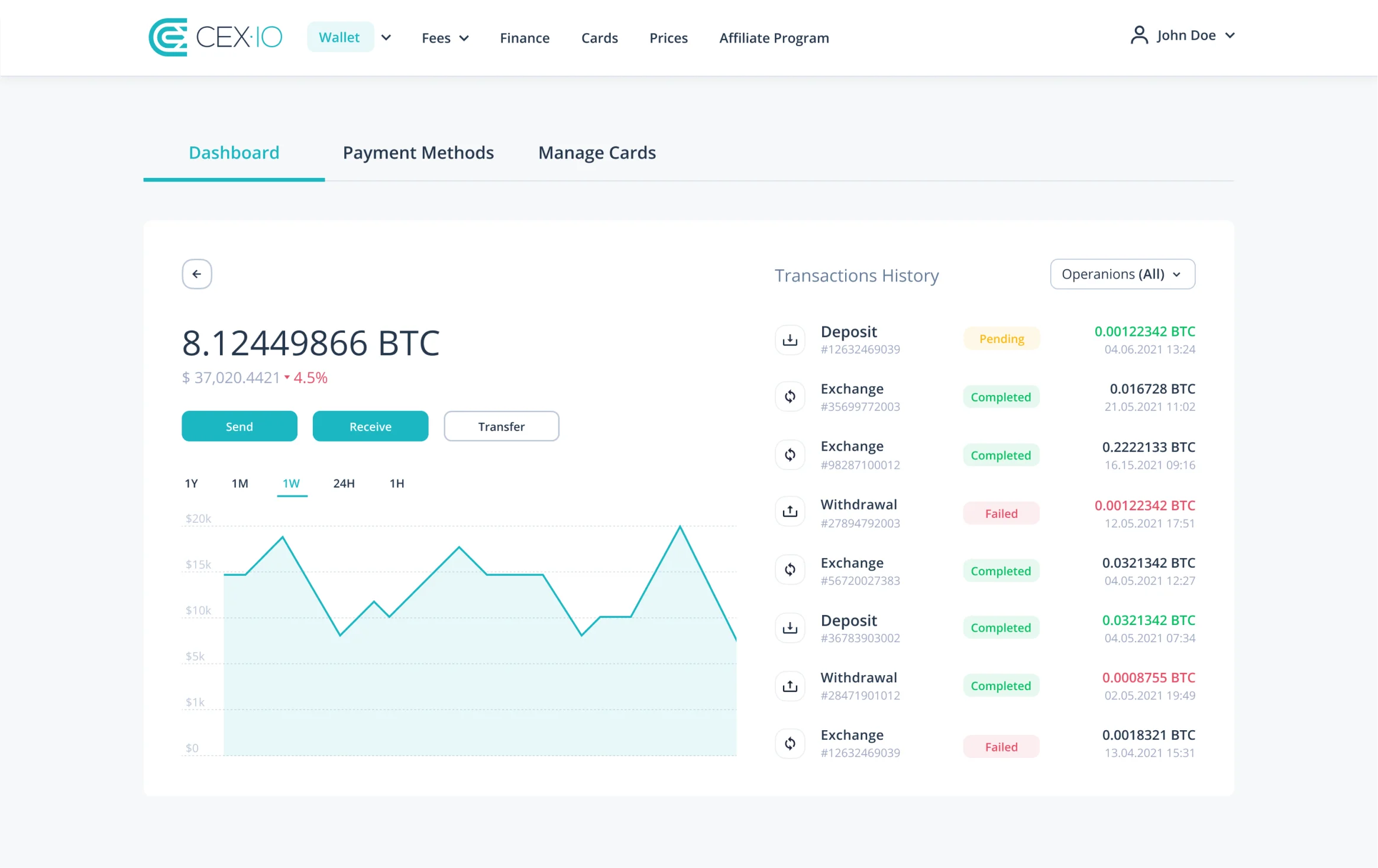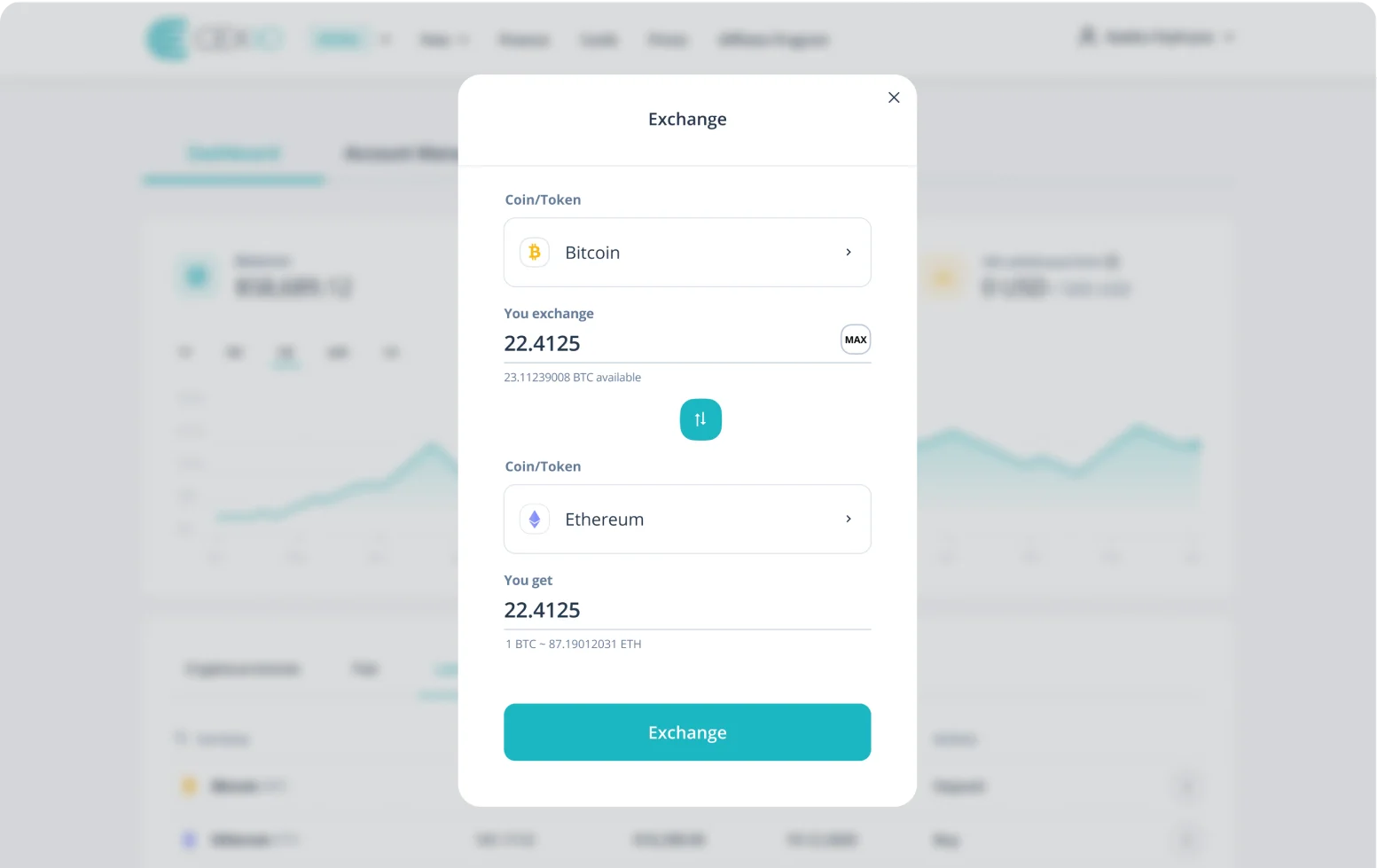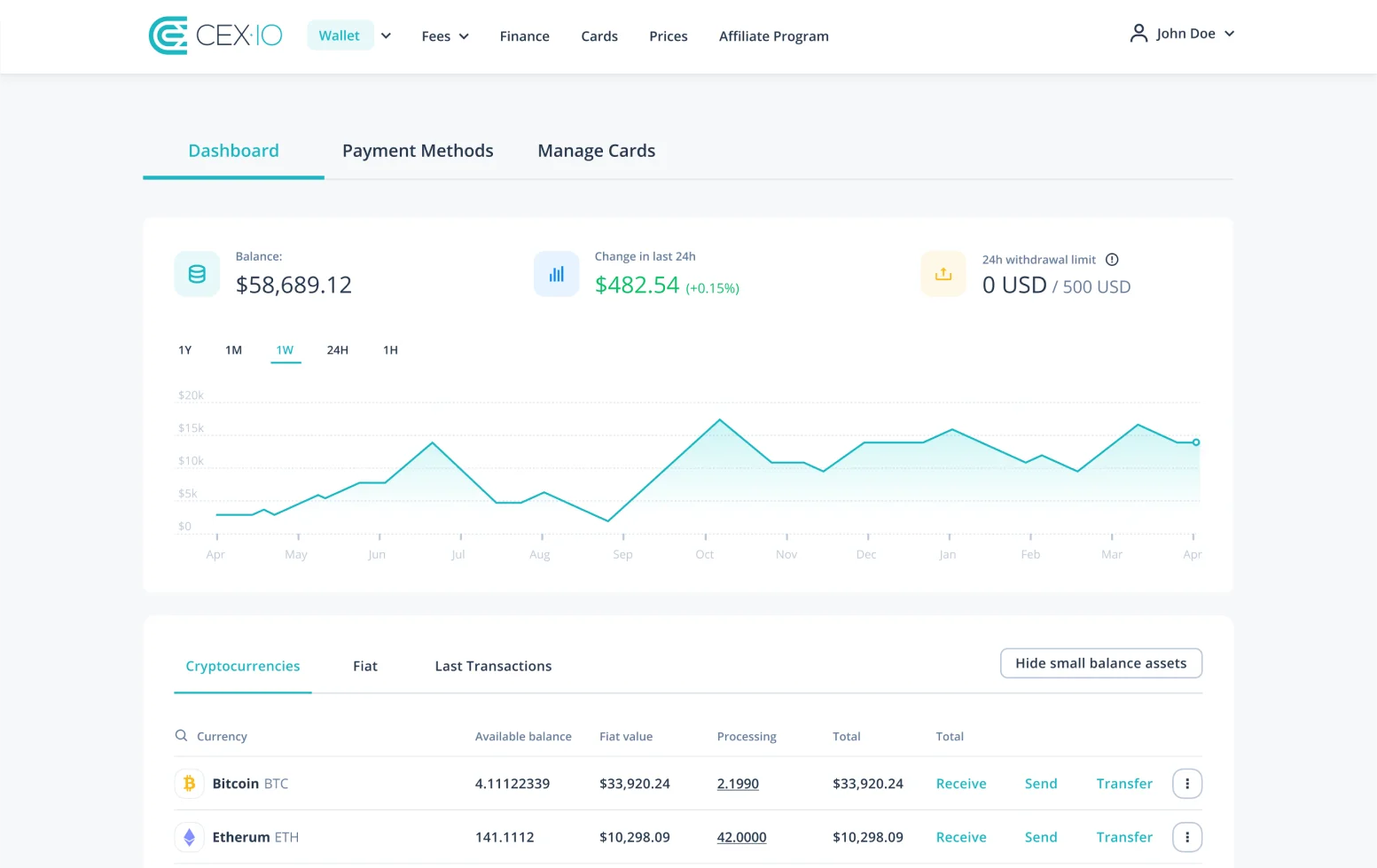 FAQ
What are Flexible Savings?
Flexible Savings is your Crypto savings account. Subscribe your crypto to earn interest, with the flexibility to redeem your funds at any time.
Committed to holding your crypto? Now you can earn interest at the same time! Subscribe your crypto to locked savings periods for higher interest earnings.
What happens to my funds on the day I subscribe to a Locked Savings product?
On the day of subscription, Savings will deduct the funds for subscription from your exchange wallet.
Online Cryptocurrency & Bitcoin Wallet
When buying your first crypto, you need to find the most secure Bitcoin wallet to store your funds. Selecting storage for their funds is one of the most important steps for crypto traders. There are a lot of different wallets with their own features — for instance, some wallets can be used only for storing cryptocurrencies, others also offer to buy them with fiat and other crypto. It may confuse users, deciding how to choose the best one and what features to pay attention to. But there are top characteristics that reliable crypto wallets should have.
Security
Security shouldn't be overlooked when selecting a wallet for your crypto holdings. If it's a web wallet, then you need to make sure that it has a secure protocol HTTPS. Also, the site should offer multiple security layers like multiple-factor authentication (for instance, 2FA).

Security of users' funds is paramount for CEX.IO. Our Wallet maintains custody of clients' funds both digital assets and fiat funds by using numerous systems and processes to protect funds. CEX.IO Wallet provides multiple confirmations for login or sending funds, increasing the security of your account. It is recommended to use 2FA, email confirmation, and other measures to make sure that your funds are safe. More information about the security of users' funds you can read in our article .
User experience
The simplicity of the user interface is the determining factor for many customers. If the wallet features are confusing and not easy to use, it can take extra time for you to use it and this can be a repulsive factor.

CEX.IO Wallet has both web and mobile app versions, allowing users to take advantage of both options. You get quick access to your crypto funds anywhere anytime and can manage them in a few clicks or taps.
Multiple cryptocurrencies and payment options available
The crypto market is not only about Bitcoin and there are tons of altcoins, including numerous DeFi tokens with rising popularity among crypto enthusiasts. Having a wide range of crypto assets to choose from for your portfolio, you'll naturally want to operate with different crypto-related services. So the crypto wallet should be a place for not only storing and transferring crypto but also should provide opportunities to buy and sell Bitcoin and other cryptocurrencies in one place.

CEX.IO Wallet is a part of the CEX.IO ecosystem and gives you access to a wide range of cryptocurrencies and services. With our multi-cryptocurrency wallet, you can buy Bitcoin instantly as well as over 80 other virtual currencies, sell and exchange them for another crypto or fiat, and withdraw funds using several payment options.
What is a cryptocurrency wallet and how do they differ?
A cryptocurrency wallet functions as a traditional wallet but instead of paper money it holds proof of your digital cash. Crypto wallet stores public and private keys, and provides digital signatures authorizing your transactions. When you want to confirm a transaction, you need to sign it with private keys. That is why users need to store private keys in a safe place.

These digital wallets can be a device, a website, a mobile application offered by a cryptocurrency exchange, software on your computer, and even a piece of paper. But, in general, crypto wallets come in two categories — hot and cold storage.
What is hot storage?
Hot wallets are connected to the internet and store public and private keys online. For instance, it can be a mobile application on iOS or Android. BTC wallet may be pretty useful if you want to make payments on the go but it is inherently riskier than offline wallets because need a constant internet connection.
What is cold storage?
In most cases, cold storages are devices or software on PCs that don't need an internet connection to operate. So if you're looking for the best desktop cryptocurrency wallet, prefer those that don't connect to the internet. Still, cold wallets are not as convenient for your everyday transactions as quickly-accessible online wallets. That's why cold wallets better suit long-term holdings than everyday trading.

CEX.IO Wallet uses a combination of cold and hot storages and we strive to get the best of both worlds. Hot wallets store a small fraction of total crypto funds, making daily transactions easy and fast. On the other hand, most of the funds remain in cold wallets, allowing users to have a safe place for storing cryptocurrencies.
How to create a Bitcoin wallet for storing cryptocurrencies?
The process of creating and setting up the wallet depends on its type. If you use a hosted or custodian wallet, then a third party cares about the security measures for your funds. As a rule, to create an account with a hosted wallet, you need to provide an email address and create a complicated password. As an extra security layer, you can enable the 2FA method.

One of the main reasons for keeping crypto in a hosted wallet is that you won't lose access to your funds if you forget or lose your password. You can simply ask a wallet provider to help you restore access to the wallet. Just like you contact the support center on a crypto exchange.

A non-custodial wallet gives you complete control of your public and private keys. This kind of wallet doesn't rely on a third party to keep your crypto safe, so the responsibility and safeguarding of passwords and private keys fall on your shoulders. It means if you forget or lose your password or seed phrase, there will be no way to access your funds.

When creating an account for a non-custodial wallet, use all possible security layers offered by the wallet provider, store your private keys in a safe place, and do not share them with anyone. Keep in mind that not all non-custodial wallets provide options for buying crypto with fiat currencies. So in order to put some funds on this wallet, you can only use the deposit options.
How to use a crypto wallet and what services are available with CEX.IO Wallet?
The way you can use a crypto wallet depends on available features. Some wallets support only storing and sending cryptocurrencies, while others allow you to buy, sell, and exchange crypto with an integrated platform.

With CEX.IO Wallet, you get access to multiple cryptocurrencies that you can receive, hold, or send to external addresses. Also, CEX.IO Wallet is your gateway to the crypto world since it allows you to buy and sell virtual currencies for fiat money via CEX.IO Wallet. Here is an example of how you can use it.

Let's say you want to buy Ethereum and hold it for a while but don't know where to start. If you use an iPhone, you can download the iOS crypto wallet like CEX.IO Wallet and create an account. Then just choose what payment method suits you most to buy Ethereum — a payment card or bank transfer. After transaction confirmation, Ethereum will be credited to your balance and you can store it or transfer it to another address. If you need fiat funds, then you can sell your ETH and withdraw using one of the supported payment methods.

CEX.IO Wallet can also be useful for users with a decent portfolio of cryptocurrencies. It provides detailed information about your balance, making it easy to evaluate and manage your portfolio. If you need to exchange BTC to USD or re-balance your portfolio, you can do that just in a few taps.
Is CEX.IO Wallet the best mobile BTC wallet?
If you try to find a wallet that supports dozens of cryptocurrencies and has an easy-to-use interface, then CEX.IO Wallet can be a great option for you. Store crypto and fiat in a secure place, buy and exchange cryptocurrencies for affordable prices, and make transactions in a split second — that's all you can get with CEX.IO Wallet.

The CEX.IO ecosystem is constantly expanding and evolving, trying to give our customers the best crypto experience with multiple services and features. And we are constantly upgrading the CEX.IO Wallet, making existing services better, and adding new features.
Frequently asked questions about CEX.IO Wallet
How to receive/deposit crypto?
To receive/deposit crypto, you need to choose the currency on the main page and select "Add". After that, you will see the wallet address that you need to enter in your external wallet. For some cryptocurrencies, there can be additional address elements like a second field with memo ID or multiple formats or networks. So before making a transaction double-check the supported options for this currency on the deposit page of the CEX.IO wallet. Then copy this information and enter it in the external wallet or use QR-code for the transaction.
How to send/withdraw cryptocurrencies?
If you want to withdraw crypto, then you need to choose the Send option. Then, add a new destination address or select a saved one to make a transaction.

When sending some cryptocurrencies, you can also see a Memo/Tag field where you can add additional information to process the transaction. It's important to check all the elements your destination wallet has. Eleven a small mistake in the wallet address, destination tag or memo ID, type of currency can lead to an unsuccessful transaction. Sometimes your funds may be lost because of that. So, be super attentive when transferring your crypto.

After entering information about the destination address, double-check it and confirm sending.
How to buy and sell cryptocurrencies via CEX.IO Wallet?
If you want to buy cryptocurrencies in the CEX.IO Wallet, then follow these simple steps:
Tap the Buy section when you are on the main page
Select currency and amount to buy
Double-check the total amount and fee for purchase
Confirm the transaction

The transaction will be processed in a few minutes.

For selling cryptocurrencies, the process is the same but instead of the Buy section, you need to choose the Sell one. CEX.IO Wallet offers affordable commissions for either buying or selling cryptocurrencies.
How to exchange cryptocurrencies?
If you want to convert crypto into fiat or other crypto in the CEX.IO Wallet, then you need to choose the Exchange section. After that, select in the dropdown menus the currencies you want to exchange and the ones you want to get. Make sure that amount in both fields is above the minimums and within your account limits. Then confirm the transaction to proceed.

The main advantage of the Exchange option is that you don't need to figure out how to place trading orders and search for the necessary currency pair. You can just choose two coins or tokens to convert and we'll swap them according to the current market rate.